Acupuncture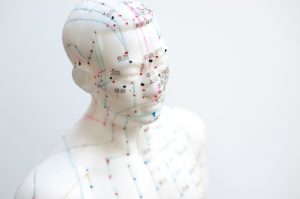 Nicholas Conte practices Acupuncture in Geelong  (306A Pakington St Newtown Geelong). Acupuncture is used for many health concerns and general wellbeing.
Fiona D'Elboux practises Japanese Acupuncture from Health Balance and also from her Winchelsea clinic, Gateways Oriental Medicine. Since beginning their training together many moons ago, Fiona and Nick have developed distinctly different techniques, reflecting the diverse styles of acupuncture currently available.
About Acupuncture
The human body is an amazing self-healing structure, with an innate ability to immediately begin quietly repairing the damage the moment we injure ourselves… in fact, we often don't even notice it happening!
However, in times of illness, our body's ability to self-heal can be thrown off track. There are a number of things that can affect this automatic process, including chronic stress, dehydration and poor nutrition. While medication is popularly used to 'fix' a problem, it often treats a symptom and not the root cause.
Acupuncture is a simple and relatively painless way to open your body up to its natural self-healing abilities, either during a period of illness or on a regular basis to promote ongoing wellness.
Using fine needles, our qualified acupuncturists Nicholas Conte and Fiona D'Elboux will stimulate your body's healing processes and restore balance and equilibrium to your wellbeing. Acupuncture needles are tapped into one of the Hundreds of physiological points on the body, connecting a network of meridians, allowing a flow of energy to resolve pain and injury and restore balance.
Derived from traditional Chinese medicine and used for over 3000 years, trained acupuncturists are specialists in this system that promotes health, prevents illness and treats common medical conditions. Nicholas has also completed advanced training that allows him to treat a variety of ailments mostly by using acupuncture points along the arms and legs. These methods of treatment generally mean that there is no requirement to disrobe.
Nicholas uses acupuncture to address:
Musculoskeletal issues
Digestive problems
Anxiety and stress
Headaches and migraines
Chronic and acute pain
Arthritis
Fatigue
Pregnancy issues
Hay Fever (allergies)
Acupuncture Research
The research for acupuncture is heading into an exciting time. With more and more acupuncture research coming out each year on both effectiveness and mechanism, the science is becoming clearer as to how acupuncture belongs in our society as a recommended treatment. The most recent acupuncture review found acupuncture to be effective for a number of conditions. For more information on this review, see The Acupuncture Evidence Project.
For recent acupuncture articles and research on conditions, see Evidence Based Acupuncture website for updated acupuncture research and articles that are very easy to read.
Your First Acupuncture Appointment with Nicholas
At your first acupuncture visit, Nicholas will create an acupuncture diagnosis and treatment plan that takes into consideration your medical history, lifestyle, diet and emotional state, allowing us to customise your treatment accordingly.
We will also explain the acupuncture treatment to you and address any fears or doubts you might have about using acupuncture for the first time. For those that are afraid of needles, a pain-free medical laser can be used to achieve similar results. All other treatment options such as Chinese herbal medicine, massage, relaxation and exercise therapy will be discussed.
We invite you to call us or use the online booking system to make an appointment with Nicholas at Health Balance for acupuncture Geelong.
Chinese Medicine & Acupuncture Geelong
Nicolas Conte, Acupuncturist
Health Balance
306A Pakington St
Newtown
VIC
3220
Tuesday – Friday 7:00am to 7:00pm
Call Clinic: (03) 5221 5751
Book Your Acupuncture Appointment Today: Acupuncture Appointment Now
Located in Newtown Geelong. Health Balance Services Geelong and the Surfcoast
Health Balance services people from Geelong and the Surfcoast with acupuncture and Chinese medicine. Many suburbs and rural regions listed below are within a 30-minute drive to the clinic.  Suburbs surrounding Health Balance include:
Belmont
East Geelong
Grovedale
Hamlyn
Highton
Jan Juc
Newtown
North Geelong
South Geelong
Waurn Ponds
Ready to make an acupuncture appointment in Geelong? Call or book online today